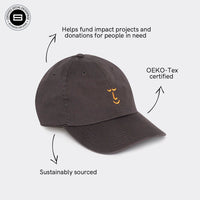 Uniquely embroidered with our Leiho smiley face on the front and logo at the back, our dark grey cap is perfect for incognito mode. Match this with a nice pair of sunglasses to complete the look.

Every hat sold helps to support our homelessness projects and donations for those who need it most.

Details
Dark grey baseball style cap
100% organic cotton
6 unstructured panels
Embroidered logo
Firm curved brim
Adjustable metal buckle
Standard delivery usually takes around 3-4 business days with first class delivery being 1-2 business days.
Orders over £30 get free UK shipping.
A purchase with a purpose
When you make a purchase at Leiho, you are helping us fund employment projects, training as well as providing vulnerable communities with essential items they need to survive. Make a difference with us today!